Little Punjabi Boy In Traditional Punjabi Dress
Dastar(Pagg) Pakistani
Dastar(Pagg) Indian
Dhoti
Dhoti kurta is the traditional Indian clothing of men. Unlike other dresses, it is an unstitched piece of cloth usually 5 yards long that is tied around the waist and legs. The knot is tied at the waist. Dhoti is known by different names at different places such as Laacha in Punjabi, dhuti in Bangla, veshti in Tamil, panche in Kannada, mundu or veshti in Malayalam, dhotar in Marathi, and pancha in Telugu etc. In Northern parts of India, dhoti is worn along with Kurta and together the attire is called "Dhoti Kurta".

In South India, men wear it with an "angavastram", which is also an unstitched piece of cloth that is draped over the shoulders. Sometimes, it is worn along with a shirt known as "chokka". In certain parts of the country, men wear Lungi, which is a similar piece of unstitched cloth, which is draped in the same manner as Dhoti. It is mostly worn on the informal occasions. However, Dhoti is concerned to be a formal ethnic dress in India. More often, men prefer wearing dhoti on the traditional family occasions. Even in the posh colonies, men wear their traditional dress dhoti.

The cultural icons such as the classical musicians, dancers and poets can be quite often seen clad in dhoti kurta. They derive pride in exhibiting the rich culture of their country. In South India, men dress up in dhoti on almost every cultural occasion. Infact, in the South Indian weddings, almost all the males wear their traditional pancha at the time of customary ceremonies. In a few parts of Southern India, it is expected that men should be wearing veshti and angavastram at the time of entering into the precincts of the temple.

The strong believers and supporters of the Hare Krishna movement have made dhoti their dress code. The practitioners wear saffron and white color clothing, draped in the traditional style. Mahatma Gandhi used to wear the ethnic dress pancha on the public functions. Even the Bengalis wear dhoti kurta on the festivity celebrations of Durga puja. Rajputs as in "Thakurs" are quite particular about wearing dhoti.

However, since the past few decades, western dressing style has been gaining momentum. Men now prefer wearing suits at work. Traditional clothing is preferred only on the family functions. Youngsters consider dhoti as an outdated unfashionable garment that is associated with a rustic look. Thus, its fashion has somewhat faded and now it is worn by men at home primarily due to its comfort. There can be different styles of draping a dhoti; however, the common style that is adopted for tying dhoti by Indian men is as follows:

How to Wear a Dhoti
Take a long piece of unstitched cloth and measure as to how much cloth is required on either side of the body.
After having divided the cloth according to the measurements, tie a knot near the navel.
Make a series of folds on the right side and tuck the folded part at the waist.
Similarly, make a series of folds on the left side.
Take the folded part of cloth from between your legs and then tuck it from behind and your dhoti has been draped.
Kurta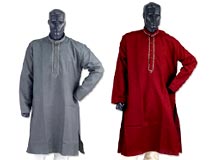 Kurta is a term used to refer to a long loose shirt, the length of which falls below or may be just above the knees of the wearer. In the olden times, it was primarily worn by men, but today, it has become a unisex dress that both men and women can wear. Depending on one's personal preference, kurta can be teamed with churidar as well as loose fit salwar. In the contemporary times, youngsters don kurta along with a funky pair of jeans. To know more about Indian kurta, read on.
Kurta is a very flexible dress that can be worn on formal as well as informal occasions. You can even wear them at work. Most Indian men prefer wearing kurta pajama during the night. Well, it is due to its extreme comfort that it has become a popular choice amongst the other nightwear available. Traditional kurta pyjamas have been increasingly gaining momentum amongst the youngsters, who prefer wearing them in their informal social gatherings, with the basic idea of maintaining a distinctive style of their own.
An interesting thing about kurta is that its sleeves do not narrow down (as in the case of most of the sleeves designed in the western style) and fall straight to the wrist. A kurta does not have cuffed sleeves and its side seams are left open for the easy movement of the wearer. The traditional kurtas do not have any collar and their openings are usually centered on the chest. However, the modern kurtas have undergone a major transformation and have stand up collars such as the Nehru collar.
There is an amazing variety of kurtas available at retail outlets, differing in their quality and weaving style. During the summer season, kurtas made up of light silk and cotton are in demand. While for winters, people usually look for heavy fabrics such as wool, Khadi silk or may a handspun. Buttons used in the designing are mostly wooden or plastic. Unlike other pieces of cloth, the buttons are not sewn; rather they are fastened into the cloth as per desire. These days, you can find real beautiful buttons in the market. Some of these buttons are even adorned with jewels and thus are a bit expensive. Thus, kurta is one of the trendiest pieces of clothing in today's times that is well liked by almost all the people.
Indian Salwar Kameez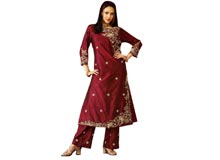 Salwar kameez is the traditional Indian clothing for women. Due to its high popularity in the region of Punjab, shalwar kameez is commonly referred to as Punjabi suit. The fashion of Shalwar Kameez in India is not new. Since the past many few centuries, women have been wearing this wonderful attire that is absolutely decent to wear and also lends a graceful look to its wearer. In Pakistan and Afghanistan, men and women both attire Salwar kameez. Infact, it were the pathans of Kabul, who can be attributed the credit for introducing this dress in South Asia.
Salwar, also pronounced shalwar, refers to the loose fit pajama that is quite wide at the top and in comparison pretty narrow at the bottom. The term Kameez on the other hand is used to refer to the long tunic. Side seams known as the chaak are left open underneath the waist line. This enhances the scope for movement. Salwar has pleats at the waist and is holded seeking the help of an elastic belt or a drawstring. Salwar can be wide and flowing or narrow according to one's personal choice. The narrow salwar is known as churidar. To know more about Indian salwar kameez, read on…
In the contemporary times, fashion designers are coming up with more and more innovative styles, designs and patterns. Today, there are varied necklines and even there is a lot of scope for experimenting with different decorative items for ornamentation such as sequins, mirrors, embroideries and so on. Suits are stitched in different styles having different shapes. Ideally, the length of kameez should be knee length according to the traditional style. However, the modern customized suits have different kinds of cuts and shapes. Apart from the usual salwar kameez and churidar suit, trouser suit also known as parallel suit is also quite popular in India. Patiala style salwar suits are well liked by young girls. It has a short length kameez much above the traditional knee length that is teamed with a loose salwar stitched in the Patiala style. According to your choice, you can go in for either full Patiala or semi Patiala suit.
For the complete look, salwar kameez is teamed with a dupatta. Well, Dupatta is a long scarf that is wrapped around the neck. There can be lot of ways of draping a dupatta depending on the occasion for which you've donned it. Dupatta not just makes your ethnic ensemble salwar kameez complete but also aids in accentuating your dress. There are salwar suits that are quite simple in design and do not have much of embellishments, but the dupatta is intricately designed. Such suits become party wear, owing to the heavy work on dupatta and bring compliments. Thus, salwar kameez is one dress, which is preferred not just for its extreme comfort, but also due to the elegance it lends to the wearer.